Quick Tips - December 2007
Money Tip
In order to make your own money work for you, you need to develop a good savings plan. Saving money should become a habit, one that becomes an integral part of your budget planning. But you also have to have the right frame of mind to successfully save money. If you are only saving up for large purchases later down the road, then you are just saving to spend. Make sure that some of your money is put away for retirement and for unexpected emergencies as well. If you need help doing this, consider setting up different savings accounts for emergencies, retirement, and large purchases, putting money in each one each month.
Home Tip
Debris and fallen leaves that have been stuck in your gutter can cause the formation of an ice dam once the weather gets very cold. The debris in the gutter backs up water, which can overflow or freeze, keeping your roof from draining properly. The first step to resolving this problem is to remove any vegetation or sticks from the gutter. You may also consider gutter helmets which can keep the debris out in the first place. Take care, however, when working on your roof, especially if there is snow or ice present. You may wish to hire a professional to complete the job.
Car Tip
No matter how many precautions you take, driving in the winter can still be dangerous. Even with all-wheel drive, snow tires, and a vehicle in tip-top shape, the roads can take their toll on you when conditions are bad. The best tactic to take is simply to drive slowly. This one tip will help you in any adverse conditions you encounter and allow you to drive as safely as possible. You should accelerate slowly, turn slowly, and brake slowly, leaving plenty of distance between you and the driver in front of you.
Organizing Tip
Winter storms can cramp your style--especially when you have no food in the house. In anticipation of severe storms that can trap you indoors, start a stockpile of necessities to have on hand. You should have the fixings for several meals, canned vegetables, beans, and soups, and some snack foods like crackers and cereal. Also, don't forget any baby care items like diapers, some bottled water, pet food, and medications for members of your family. Finally, make sure to fill up your gas tank whenever it goes below half a tank, to ensure that you are not having to pump gas out in the cold when it dips well below freezing.
Safety Tip
If you are going to be traveling over the holiday season, be sure to let your family and friends know the route you intend to take, especially if you are traveling by car. You may also want to plan out an alternative route in the event of road closures. Be sure to tell your family and friends of this alternative, so that if you do not arrive at the expected time, they will know where to look for you and where to watch for weather closures and delays.
Healthy Living Tip
It is estimated that 30 percent of people get no exercise at all during the winter months. But a good exercise routine is critical all year round. If you dread heading outdoors when it is below freezing, consider heading to the mall for a brisk walk. You can also work out at a health club or in your own home if you have exercise equipment. Even climbing a staircase in your home or office building can be enough to get you 20 minutes of a good workout each day. Whatever you do, don't use the cold weather as an excuse to not exercise--it should be an excuse to get creative with your workout instead.
Travel Tip
If you are traveling with another person, plan on packing your bags light enough that one person can carry the luggage for both of you if necessary. This is particularly helpful when you need to find parking, seats in a crowded train, or stand in line for long periods of time. One of you can do this while the other follows later with the bags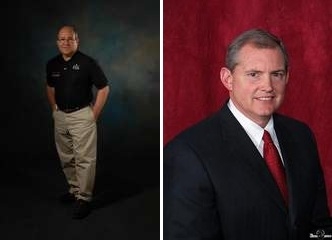 Tom Kile & Darrell Nipp
3440 Bell, Suite 100