Tips for a Great Garage Sale
Is your closet fuller than your wallet? Do you have bags of old clothes crammed under the beds? Are you tripping over the junk that's been accumulating around your home? Summer is the perfect time to get rid of it all! A garage sale is a great way to clean up the clutter and make some extra cash at the same time. To help you prepare for a great garage sale, here are some ideas to make the day as easy (and profitable) as possible.

Prepare ahead of time.
Before the big day, designate a collection area in your home. It can be a large cardboard box or a whole spare bedroom. This will keep you from forgetting to put items out. Practical household goods such as appliances, dishes, furniture, tools, and the like are good sellers. Items of clothing, especially children's clothing, sell well if they are clean and still in good condition.

Organize as much as possible.
The more you organize and sort your items for sale, the better. Have one box for books and perhaps a small table for kitchen items. Clothing can be displayed hanging on a rack or spread out on a blanket on the ground. Make sure everything is clean and include original packaging if you still have it. Labeling your displays will make for better sales as well.

Price your items fairly.
Keep in mind, however, that some people will want to bargain, so don't make your prices too low to begin with. To save time, only individually price large items. Price groups of items all the same price. For example, price all books 50 cents and all toys $1.00. Lower your prices toward the end of the day. Some people will return to see if items they were interested in earlier have been discounted. If you don't lower your prices at the end of the day, you may not sell them at all.

Have all the basics handy.
Keep plenty of change available. Most everyone will come with $5.00, $10.00, and $20.00 bills. You should have a calculator, a measuring tape, and an extension cord if possible to try out electrical appliances. Have grocery store sacks and newspaper for wrapping fragile items. Consider wearing a hip pack to hold your money, rather than leaving it in an unattended box on a table.

Get some help.
It's a good idea to have a friend, neighbor, or relative help. You do need the occasional bathroom break. If you have kids, they can join in on the fun. Setting up a lemonade and cookie stand or selling hot coffee and doughnuts can be a great way for them to make a little extra money as well.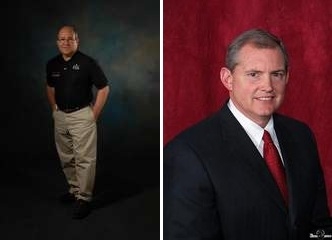 Tom Kile & Darrell Nipp
3440 Bell, Suite 100