Taming the Chord Chaos
Anyone who uses a computer or has electronics at home knows that the cords from all these devices can quickly get into a tangled mess. Not only are they unsightly, but they can pose a tripping hazard and can make it hard to find the right cord when you need it. There are lots of gadgets designed to address this problem, but you don't have to spend a lot of money to tidy up your cords.

First, be sure you have a surge protector. This device offers you a set of outlets that plugs into a single outlet in the wall. You will increase the number of devices you can plug in. By mounting the surge protector under a desk or on a wall, you can consolidate some of your cords. Just be sure to place it in an out-of-the-way place that is still easily accessible.

To keep the cords from getting tangled up once they are all plugged in, bundle them together using cable ties. These small plastic zipper ties are readily found at home improvement stores. You will need to leave enough slack in your bundle so that the cords can still reach the surge protector, but this will keep them from moving so much that they become tangled.

If your cords have to travel a significant length to reach their outlet, consider purchase inexpensive cord covers. These plastic covers can be run along the length of a shelf, desk, or baseboard, and come in a variety of colors, so you can blend them in with your décor. A cup hook will also work to guide cords where they need to go.

Finally, consider labeling each cord. You can attach a labeled sticker onto the cord. You can also use colored labels, with each cord getting a different color. Place a sticker of the same color on each end of the cord and you can quickly see what attaches to each.

Visit my site soon for more updated information!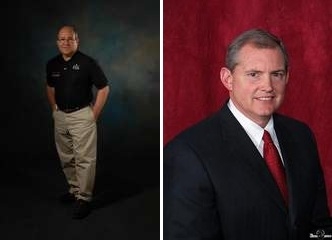 Tom Kile & Darrell Nipp
3440 Bell, Suite 100