Making Your Home Safe for Visting Ghouls and Goblins

Halloween

is a fun time for adults and kids alike. If you are planning on welcoming trick-or-treaters to your home this year, be sure to make the experience as safe as possible.


Remove tripping hazards from your

front porch

, yard, and sidewalk. This includes hoses, toys, flowerpots, and lawn furniture.
Rake up any leaves and remove them from the walkways to your home. Wet leaves can be very slippery and pose a falling hazard.
Make sure the front of your house is well-lit. If you have several outdoor lights, make sure the bulbs are working in all of them.
Your pets should be restrained or put in a quiet back room or the back yard. This is not only safer for your young visitors, but also can help prevent your pet from escaping.
Instead of open flames in your jack-o-lanterns, consider using

flameless candles

. Check any outdoor decorative lighting to ensure that the cords and sockets are not broken, frayed, or are exposing bare wire.
If you are not going to be home, remember to lock all your

doors and windows

. Turn off your porch light, so trick-or-treaters will know you are not giving out candy.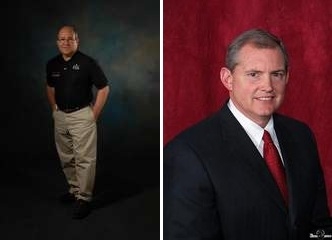 Tom Kile & Darrell Nipp
3440 Bell, Suite 100