Decorating Ideas for Small Spaces
Anyone living in an apartment or small home faces decorating challenges. If you find you have more stuff than space, and your home is feeling in need of a face-lift, try these ideas on for size.

Start by prioritizing how you use your space. If you work at home, you´ll need to provide for a workspace. If you like to entertain, you may want the versatility of a fold-up table and extra chairs. Include only essentials in certain parts of your home. For example, your bedroom really requires only a bed, a nightstand, a lamp, and some art or simple accessories.

A smaller space doesn´t necessarily mean you need small-sized furniture. This often only emphasizes the smallness of the room. Look for furniture that serves more than one function. For example, a chest can be used as storage while serving as a coffee table. Futons, day beds, or pull out couches can provide additional sleeping spaces at night. Also, since your floor space is limited, think vertical. Use tall bookcases, rather than shorter ones. A tall organizer can be placed on a desk to provide more storage space.

Finally, get creative. In addition to finding new storage solutions, remember to decorate in a way that makes your rooms seem larger. Eliminate clutter, use mirrors to add size to a room, and accessorize with lots of color.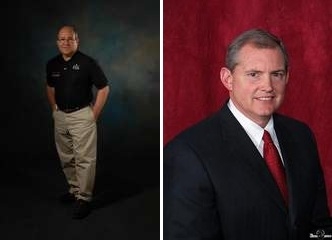 Tom Kile & Darrell Nipp
3440 Bell, Suite 100