Getting Your Windows Squeaky Clean
Washing your windows can be a chore, but with a few tips, you can have all your windows sparkling in no time. First, start by choosing the best time to wash your windows. Try to choose a cloudy day, or at least a time before the sun is hitting your windows. This will reduce streaks on your windows.

To get a good start to your window cleaning chore, start by vacuuming the windowsills and screens before you clean them. This eliminates much of the accumulated dirt. Then prepare a cleaning solution of a few drops of liquid dish soap to two gallons of water. If you prefer, you can use a capful of ammonia or one cup of vinegar in place of the dish soap to further prevent streaking. Wash the surface of the window with a sponge soaked in the cleaning solution, followed by a squeegee to remove the water. Press the squeegee lightly onto the surface of the window, moving from top to bottom. Wipe the squeegee off with a paper towel or newspapers. If you don't have a squeegee, you can wipe the windows down with newspaper, which is great for reducing streaks on the surface. Finally, use a paper towel or more newspaper to wipe up any water that has run down to the bottom of the window frame. If you have hard to reach windows, hardware stores sell extension poles that can be fitted with a squeegee head made specifically for washing windows.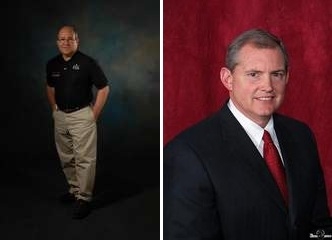 Tom Kile & Darrell Nipp
3440 Bell, Suite 100