Six Tips for a Debt-Free Holiday
There are many people who spend January looking at the bills piling up on their desk, wondering what happened to their holiday budget. What a difficult way to start the new year, with lots of bills to pay and not enough money to go around.

But this year, you can do something about it. Here are six tips that can help keep your budget under control, while still having a happy holiday season.

1. Make a list.
This seems like a simple and obvious idea, but it can be easier said than done. Without taking the time to write down your gift-giving list, you may keep adding to it each time you head out to the store. Having a list also gives you a way of keeping track of who you have already bought for, so you don't end up with 10 gifts for your niece and only one gift for your nephew.

2. Set some limits.
In addition to having a list of people to buy for, you also need to have a set limit for each person. If you do not do this, you will be sure to overspend, especially if you spend some of your shopping time browsing the mall. If you find the perfect gift for one person on your list, but it is over your budget for that person, you will either have to move onto something else, or make the conscious decision to choose a less expensive gift for another recipient. Write down on your list what your budget is for each person and what your final budget for all gifts is. Do not go over either number. Keep track by noting how much you've spent next to the person's name on your list.

3. Be careful how you pay.
Take only one credit card with you when you go shopping, or better yet, use a debit card or checks. This will help keep your budget in check. If you are using a credit card, keep a running total of all your expenditures, and do not go over your set limit. By paying with a debit card, you avoid any of those large January bills completely. You will be sure to spend only what you have in your checking account at the time.

4. Consider some alternatives.
What if you seriously look at your finances and realize that you actually don't have much to spend this holiday season on gifts. Well, there are some other ways to make those in your life feel appreciated and special. Give the gift of time by scheduling a nice lunch or outing with your family members. You may go bowling with your kids, bake cookies for a neighbor, or visit an elderly relative who is house-bound. Many people would appreciate these types of gifts of time rather than having another knick-knack to clutter up the house.

5. Take care of yourself.
This may not seem as obvious as the other strategies, but taking care of yourself during the holiday season can have a beneficial effect on your personal finances. Many people get depressed or down during the holiday season. For some, spending money, especially on others, becomes an emotional pick-me-up that is hard to resist. If you find yourself feeling the blues, it is time to stop and take stock of your emotional and physical state. Make sure to get enough sleep, try to get some exercise each day, and eat well during this time. You may also want to talk with a trusted friend or family member about your feelings. Just remember, that you need to tell yourself that over-spending is not the answer, and in fact, will just make you feel even worse come January when the bills start pouring in.

6. Plan for next year.
Although perhaps you can't do a whole lot about your financial state right now, you can plan for the future. Use any setbacks you have as a learning experience. Figure out how short you were this year, and start a savings plan in January for next year's holiday season. Plan on putting away a few dollars each week or month to meet your savings goal. That way, you will enter December next year ready and able to face the task of holiday shopping the smart way.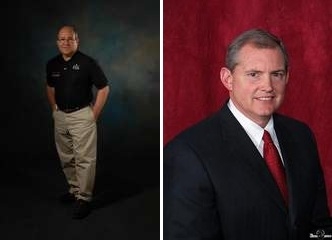 Tom Kile & Darrell Nipp
3440 Bell, Suite 100