How to Finally Organize Your Closet
A change in season can wreak havoc on your closet, especially if you are not very organized to begin with. Needing to bring out the warmer clothes and find a place for your summer duds can cause a disaster in your bedroom. If you are ready for some serious closet organization, here are the steps you should take.

Empty out your closet.
This first step is the most crucial. You will not be able to properly organize your closet unless you can take a good look at all your clothes and the space you have to work with. Be prepared--this may take a couple of hours.

Evaluate your space.
Consider giving your closet space an upgrade. There are many types of closet organizing systems available, with specialized shelves and organizers that can save you lots of space. You can also look around your room for other places to store your clothes. Can you use the space under your bed to store clothing in short, long plastic bins? Can you put decorative baskets on top of your dresser to hold your accessories? Evaluate your room to make the most of your available space.

Sort through your clothes.
You can either do this after you've emptied your closet or while you are doing the emptying. You should be sorting your clothes into logical piles: those that need to be given or thrown away, cold weather clothing, warm weather clothing, between season clothing, and accessories. If you have items that no longer fit or are in disrepair, put them in the give-away pile. Plan on giving this pile to charity or having a garage sale.

Start loading your clothes back into your closet.
Finally, you will need to put your clothing back into your closet. If you are heading into cooler weather, pack your summer clothing in under-the-bed storage boxes. Hang your winter clothing and transitional pieces in your closet grouped by color. Foldable clothes, like sweaters and t-shirts should be placed in a dresser to maximize the space in your closet. And don't forget your shoes--discard any shoes that are too worn or are uncomfortable. Take some time to clean and polish the rest of your shoes, and organize them neatly on the bottom of your closet or in an over-the-door shoe organizer.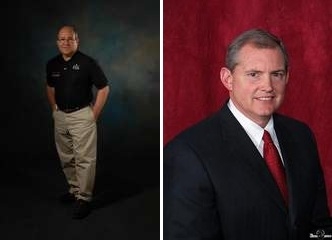 Tom Kile & Darrell Nipp
3440 Bell, Suite 100