Putting Down Some Roots
While you may think of the growing season as lasting from spring to the end of summer, the fall months are actually a great time for tree planting. The cooler weather gives newly planted trees a chance to establish roots during the dormant season before the next growing season begins. Once warmer weather and spring rains start, the tree will begin focusing on top growth.

To properly plant your tree, you should first take care to identify all underground utilities prior to digging your hole. A tree should be planted in a hole that is about three times the diameter of the root ball, but only as deep as the root ball. This gives the roots an easy way to push through the surrounding, loosened soil as its roots grow.

Be sure to plant your tree at the proper height. The trunk flare, the area of the trunk where the roots spread at the base of the tree, should still be visible. If you plant your tree too deeply, the roots may have trouble getting enough oxygen for proper development. You can plant your tree about two to three inches above the trunk flare. This will allow for settling. Fill the hole gently but firmly. The soil should not be compacted down, but you do want to eliminate air pockets around the roots. You can alternate adding soil and water to help remove these air pockets.

Finally, stake the tree if necessary to provide stability. You should stake if your tree is in a high traffic area or if your area experiences very windy conditions. Add mulch around the base of the tree to help hold in moisture around the root area. Water your newly planted tree at least once a week or more often if you experience hot dry weather. If you are planting during the fall months, water weekly until early November. You can then reduce your watering schedule to once every two to four weeks.

Thanks for visiting! Come again!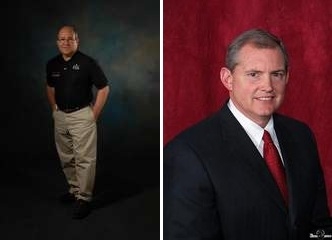 Tom Kile & Darrell Nipp
3440 Bell, Suite 100