Emergency Flat Roof Repair

When a roof leaks, it´s not the kind of situation where you can schedule a roofer to fix it sometime next month. It needs to be fixed right now.
Because most flat roofs turn into small swimming pools in a good rain, if there is a leak, hundreds of gallons of water may find their way inside and cause an amazing amount of damage. I´ve had a lot of years to experiment on patching flat roofs, and the patches that I applied 10 years ago are still good. Here´s why:
The primary repair material that I use is called Henry´s Wet Patch. It´s a sticky, black, tar-like substance that can be applied to wet surfaces - even underwater. But my secret is that I use the Wet Patch with aluminum foil and that I have an assistant to help me apply it.
Required ingredients also include several garbage bags, some duct tape and a disposable spatula.
If you try this fix, you can get the Wet Patch on your hands and arms, so protect them with the garbage bags. Use the duct tape to hold the bags in place.
The repair:
Scoop the Wet Patch with the spatula and spread it over the hole.

Have your helper tear off a piece of aluminum foil that will almost cover the Wet Patch.

Press the aluminum foil into the Wet Patch with your covered hand and use the spatula to press its edges into the Wet Patch.
That´s all there is to it. When you are done, peel off the garbage bags and stuff all the trash into them.
This kind of patch lasts a lot longer than a simple gob of Wet Patch spread over a hole in the roof. I believe this is because the Wet Patch seals the leak and that the foil prevents the Wet Patch from outgassing, drying out and ultimately cracking.
It doesn´t make for a pretty patch, but it is quick and will last for many years - plenty of time to schedule a new roof.
- Kee Nethery, Berkeley, Calif.
Tips & Techniques provided by Fine Homebuilding.
©2005 The Taunton Press
To request a reprint of this feature, e-mail Christina Glennon at Fine Homebuilding.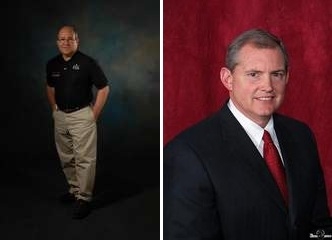 Tom Kile & Darrell Nipp
3440 Bell, Suite 100