Fast & Accurate Countertop Scribing

As a kitchen-cabinet installer, I have scribed hundreds of countertops to fit irregular walls.
For most jobs, I only have to remove a little of the countertop material, but for some jobs, I have to carve away as much as 1/2 inch of material - which can be a long, dirty job with a belt sander.
Now, I use a new technique that leaves the old way in the dust. Instead of a belt sander, I use a router.
As shown in the accompanying drawing, I use a medium-duty router with a 1/2-inch diameter straight-shank cutter.

I position the countertop away from the wall so that, at the maximum distance between the counter and the wall, the router bit just kisses the very edge of the counter.

Then I temporarily screw the countertop to the base cabinets from below.

Next, I run the router across the backsplash scribe using the wall as a guide.
Apart from a minor touch-up in the corner with a belt sander, the job is complete. A perfect fit, every time.
- Steven Morris, Sarnia, Ontario, Canada
BuilderBooks.com Offers More Than 250 Books That Help You Build Your Business
BuilderBooks.com

is your source for training and education products for the building industry. The official bookstore for NAHB, BuilderBooks.com offers award-winning publications, software, brochures and more available in both English and Spanish.
To view these publications online,

click here

, or call 800-223-2665.
---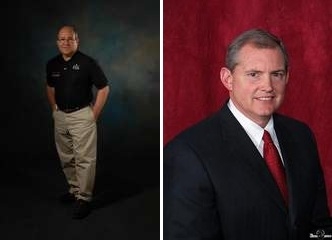 Tom Kile & Darrell Nipp
3440 Bell, Suite 100