Fitting Pulldown Attic Stairs

Figuring out the angle of cut and the length of the lower stair section is the hard part and the installation guides aren´t much help.
I came up with a simple trick that´s accurate and quick - and a tape measure isn´t even necessary.
Here´s what I do:
After the stairs are fastened within the opening, I fold them out except for the last section.


I hold a 1x straightedge on top of one of the stair stringers, slide it down until it touches the floor and mark the straightedge to indicate the bottom corner of the middle section of the stair. Then I place a 2x4 block on the floor against the straightedge and draw a line that gives me the angle to cut the stair.


Next, I extend the bottom stair section and align the mark on the straightedge with the middle section´s corner. I mark the end of the stair and use an adjustable bevel square to transfer the angle and draw cutlines.


Finally, I remove the excess portion.
The angled cut should fit tightly to the floor and the sections should butt tightly together when the stair is folded down.
- Mike Guertin, East Greenwich, R.I.
Tips & Techniques provided by Fine Homebuilding.
©2005 The Taunton Press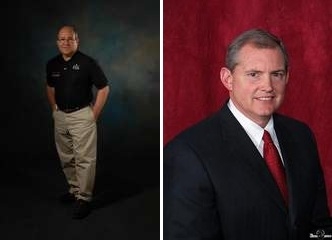 Tom Kile & Darrell Nipp
3440 Bell, Suite 100