Fitting Stair Treads

Cobbled together out of scrap plywood, the jig shown in the accompanying drawing makes it easy to fit stair treads between a pair of walls or skirtboards.
To use the jig:
Loosen the wing nuts and lay it across the tread cuts of the stair stringers with its back tight against the riser cuts.


Extend the legs so that they're snug against the walls or skirtboards and tighten all the nuts.


Remove the jig carefully, place it onto the tread stock and scribe the end cuts on the stock.
When cutting, leave just a trace of the cutline for a perfect fit.
- Robert Plourde, Atlanta
Tips & Techniques provided by Fine Homebuilding.
©2005 The Taunton Press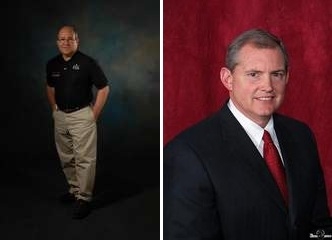 Tom Kile & Darrell Nipp
3440 Bell, Suite 100