How to Center Your Ladder Load

After getting my new 32-foot aluminum extension ladder home, I struggled to haul it around the yard to complete a painting project. Whether using it as two separate 16-foot sections or as an extension ladder, I found it mighty awkward to carry.
Try as I might to estimate the midpoint when lifting it, I always got it wrong.
Eventually, after much trial-and-error repositioning of the lifting point, I was able to pick up the ladder without one end digging into the ground.
Here's what I did to solve this problem:
I first separated the two sections of ladder and placed each section on a sawhorse, perpendicular to the crossbar.
I quickly found the balance points and marked them with a spray-painted fluorescent orange line across the side rails of each section.
Now when I pick up either section, I know that I am grabbing it exactly in the middle.
Best of all, when the sections are back together, the lines still act to indicate the center. No matter how far the ladder is extended, the lines on the sections are only a few feet apart. It is easy to eyeball the midpoint between the two lines and to grab the ladder at the midpoint every time.
- Jim Parker, Littleton, Colo.
Tips & Techniques provided by Fine Homebuilding.
©2005 The Taunton Press
To request a reprint of this feature, e-mail Mary Lou von der Lancken at Fine Homebuilding.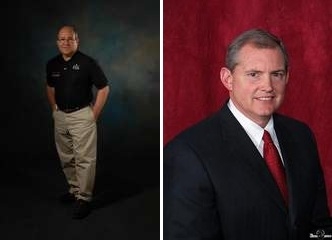 Tom Kile & Darrell Nipp
3440 Bell, Suite 100