How to Easily Expand Circular Holes

Because hole saws rely on a pilot bit to guide them, it's pretty tough to enlarge an existing hole. There's no wood for the pilot bit to bite. But there are ways to get around the problem.
One solution, as shown in the accompanying drawing, is to use a wooden plug as a pilot.

Using a hole saw the size of the existing hole, cut a plug from a piece of scrap wood.

Extract the plug from the hole saw and impale it on the pilot bit of the larger hole saw. Make sure the plug extends below the plane of the saw's teeth.

Insert this rig into the hole that needs enlarging and drill away.
The plug won't fall off because the twist of the pilot bit tries to screw its way further into the plug. By the time it does, the larger saw has established its own kerf.
Don Reinhard, via e-mail
Tips & Techniques provided by Fine Homebuilding.
©2005 The Taunton Press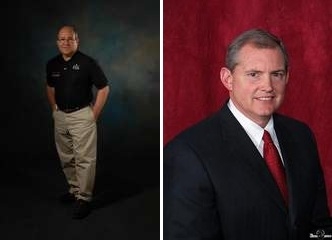 Tom Kile & Darrell Nipp
3440 Bell, Suite 100