< style="text-align: center;">
Keeping Mud Off a House Under Construction

If you are putting siding on a new building in an area where it frequently rains, you may find your newly-sided lower walls spattered with mud after every shower. The problem is worse on walls below eaves that have yet to receive their gutters.
After much brushing, washing and repainting of mud-stained walls, I decided to roll out a 3-foot-wide strip of landscaping fabric on the ground along the wall. It works like magic.
Splashing is just about eliminated. The water hits and passes through. There is no puddling and the fabric doesn't become slippery the way scraps of sheathing do when used for this purpose.
The fabric also keeps your shoes cleaner, which keeps ladder steps, your hands and, ultimately, the siding cleaner, and it makes nails and small tools easy to recover when dropped.
Finally, it's light and quick to hose off and reuse.
When you're done installing the siding, lay down straw for interim splash protection until final grading and seeding are in place.
- Michael Mitrano, Titusville, N.J
Tips & Techniques provided by Fine Homebuilding.
©2005 The Taunton Press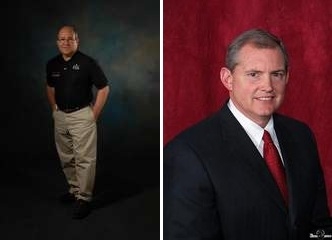 Tom Kile & Darrell Nipp
3440 Bell, Suite 100