Painting Lots of Doors at Once

When I paint the interior of a house, I often end up with 30 or more doors that need painting.
I've found that the easiest way to do this task is to start by taking all the doors out of their frames and move them into
the largest room in the house or into the garage, where they will be painted.
There, I stack the doors atop one another and paint their tops and bottoms with a roller. Then I put down two rows of 1x2 strips and stand the doors up on them in long lines, as shown in the drawing.
The first door is set at a 45-degree angle to the strips and the next door is set at 90 degrees to that so that they look like one long folding door.
One person stands the doors up and a second person connects them by nailing a 1x2 across the top.
Once the doors are ganged together, I remove all the hardware and put the fittings for each door in a Ziploc bag coded to its door.
With this method, I can paint all the doors at once using a spray, roller or brush.

Finally, I allow them to dry and then reassemble them all in one spot.
- Jon Tobey, Monroe, Wash.
Tips & Techniques provided by Fine Homebuilding.
©2005 The Taunton Press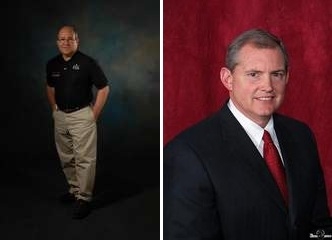 Tom Kile & Darrell Nipp
3440 Bell, Suite 100