Sharing Compressed Air

If you've ever had a nice set of air-hose splitters borrowed into oblivion (now who borrowed that from me?), you may appreciate this trick.
On the male end of each of my air hoses, I installed a

brass T, as shown in the drawing.

In the perpendicular opening, I installed a female hose coupling.


Then I installed a male hose coupling in the remaining opening.

This setup allows me to plug in at any connection, at the compressor or in the field simply by unplugging someone else's hose, plugging mine into where theirs was and plugging theirs back into the female coupling in the T-fitting.
This arrangement saves time, and you never irritate anyone else by stealing their air connection - at least for more than five seconds or so.
Shortly after adapting my hoses this way, it dawned on me that I ran the risk of getting dirt and debris into the female coupling when it wasn't being used. So I ran a plug into a male coupling and drilled a hole in it for a small chain that attaches to a key ring at the end of the hose. Presto. A built-in debris barrier.
- Carl McFarland Jr., Berkeley, Calif.
Tips & Techniques provided by Fine Homebuilding.
©2005 The Taunton Press
To request a reprint of this feature, e-mail Mary Lou von der Lancken at Fine Homebuilding.
---
BuilderBooks.com Offers More Than 250 Books That Help You Build Your Business
BuilderBooks.com is your source for training and education products for the building industry. The official bookstore for NAHB, BuilderBooks.com offers award-winning publications, software, brochures and more available in both English and Spanish.
To view these publications online, click here, or call 800-223-2665.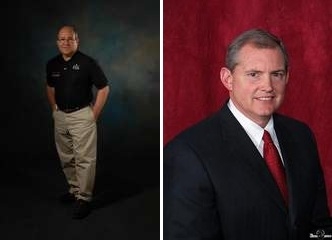 Tom Kile & Darrell Nipp
3440 Bell, Suite 100