Using a Biscuit Joiner to Patch Wood Flooring

The difficult part of patching a strip floor is making a clean, square cut in one piece of flooring without cutting into any adjacent pieces. Most folks drill holes along a line and then chisel out the cut.
I have discovered a faster and easier way to replace or repair a piece of wood strip flooring.
It doesn't involve drilling holes, and it only requires a minimum of chiseling.
As shown in the accompanying diagram, I use a biscuit joiner to make the cuts. I have found that this method is much quicker and more accurate than the drill and chisel method. Here's how to use a biscuit cutter for the job:
Set the depth of the cutter so that when it is fully plunged, the portion of the exposed cutter at the base should equal to the width of the flooring - typically 2-1/4 inches.


Once you decide where to make the cuts, lay your square on the floor with one edge lined up with the edge of the floorboard.


Put a knee on the square to hold it in place and mark the center of the floorboard on the square. This is the alignment mark for the biscuit joiner's registration notch.


Now hold the base of the biscuit joiner against the square and plunge it straight down. Then, use a chisel to finish the cut.
By the way, it's a good idea to use an old cutter for this operation because you might hit the occasional nail.
- David Hornstein, Lexington, Mass.
Tips & Techniques provided by Fine Homebuilding.
©2005 The Taunton Press
To request a reprint of this feature, e-mail Christina Glennon at Fine Homebuilding.
---
BuilderBooks.com Offers More Than 250 Books That Help You Build Your Business
BuilderBooks.com is your source for training and education products for the building industry. The official bookstore for NAHB, BuilderBooks.com offers award-winning publications, software, brochures and more available in both English and Spanish.
To view these publications online, click here, or call 800-223-2665.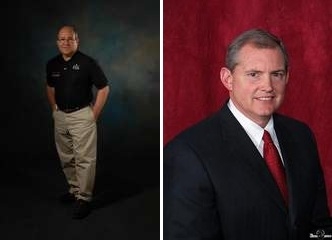 Tom Kile & Darrell Nipp
3440 Bell, Suite 100