Using Sandbags as Concrete Form Anchors

As shown in the accompanying drawings, a combination of sandbags and struts can often be a suitable substitute for conventional anchorages when applied in certain applications - like rocky soil or winter conditions when driving stakes into the ground just won't work.
Strut-braced forms also have the advantage of not obstructing the mouth of the form, and they don't require the loss of valuable anchorage materials, such as threaded rods, inside the cast concrete.
Please note that I've deliberately not given any dimensions to these configurations. They would depend entirely on the specific size and shape of the form being used.
To use this method:
I first place my form on the footer or subgrade to evaluate the working clearances and the best approach path for the concrete.


Then I use whatever scraps of furring strips or 2x3s I have available as strut material. I attach them parallel to grade and make them of sufficient length to project well beyond the form. They should stay clear of my working space and my approach path.


I then fill sandbags with whatever backfill is handy and place them atop the struts in sufficient quantity to counteract the weight of the concrete in the form.


The sandbags should be placed so that they drape over the struts and make positive contact with the ground or with additional sandbags placed below the struts, as shown in elevation No. 2. On occasion I have also placed additional bags around the base of the forms to provide more lateral and torsional resistance.
How Many Sandbags Should You Use?
I am typically working with post pedestals in the 1-cu. ft. to 2-cu. ft. range, and it's easy to pile on more than enough bags to deal with these loads. My rule of thumb is to use enough bags so that when I shove the form hard, there is no appreciable movement. I also keep plenty of bags on hand should I need more bracing.
The critical thing to keep in mind is that concrete is heavy, surprisingly plastic and prefers to assume the general shape of a cow pie - rather than the shape you have in mind. It never hurts to overbuild or over-brace forms more than you think necessary.
By the way, 25-lb. and 50-lb. woven poly-fiber seed and feed bags are excellent for sandbags. They are likely to be available for free from your landscape subs and local livestock farms.
- Christopher T. Gale, Fallston, Md.
Tips & Techniques provided by Fine Homebuilding.
©2005 The Taunton Press
To request a reprint of this feature, e-mail Mary Lou von der Lancken at Fine Homebuilding.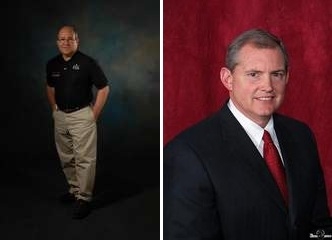 Tom Kile & Darrell Nipp
3440 Bell, Suite 100